(VBS) Cross+Generational Faith Adventure 2015: Everyday Superheroes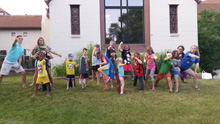 Families of all kinds ‐ couples with kids or grandkids, couples (young or old) without kids, singles (young or old), cousins, godparents, friends ‐ were invited to Cross+Generational Faith Adventure (formerly VBS) on Tuesday, July 7, through Thursday, July 9.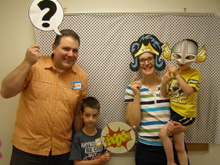 Those who participated found out that ordinary people do extraordinary things every day, and THEY are one of them! They learned about the superpowers Jesus Christ gives all of us. Each evening began with dinner! Then, having fun learning about Jesus, making capes, posing in the photo booth, climbing through Spiderman's webs, and more!
They also collected nonperishable food items that went to Martin Luther Church's outreach ministries.