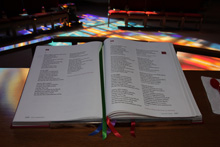 Bible Study Opportunity
Martin Luther is hosting a new Bible study on Wednesdays, from 9:30 to 11:00am. Pastor Steve Kuhl from St. Mark's Episcopal in South Milwaukee has offered to teach a weekly study of the scriptures using the Crossings method that seeks to "cross" our daily lives with the Law and Gospel of God's Word, connecting readings to our living. This study is open to the whole community, so invite friends, and pass along the information.


Pastor Weeden's Study Groups
The Women's Group will continue to meet on the first Tuesday of each month at 6:30pm; however, there will be no meetings in July, November, or December. The Men's Group will now meet at 6:30 pm on the fourth Tuesday of every month except July, November, and December. In February, there will be a meeting with both groups coming together on a Saturday or Sunday afternoon to discuss a special topic, such as prayer, Holy Communion, etc.


WELCA Bible Study
WELCA Bible Study, led by Pastor Ari Mattson, will be studying the parables of Jesus in the Gray Room, at 7pm on the third Thursday of the month.